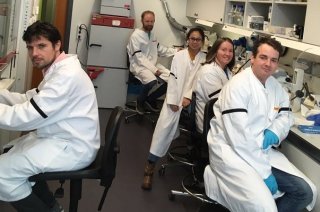 News
Genome-based selection for the improvement of natural enemies in Nasonia vitripennis
Published on

April 17, 2018
Genomic selection (GS) currently revolutionizes animal breeding, and is increasingly used in human genetics to predict the risk of complex diseases. The main goal of my project is to seek proof-of-principle for the use of GS to genetically improve key life history and biocontrol traits in populations of natural enemies, using Nasonia vitripennis as a model organism. Wing size and shape are fitness-related traits, which have a strongly influence on flight ability. Thus, I will focus on applying GS for wing size and shape in N. vitripennis.


ESR update - GS methods use information from genome-wide DNA-markers to efficiently select for complex traits. The trait heritability is one of the most important factors determining the accuracy of GS: the higher the heritability of the trait, the greater the accuracy of selection. However, no studies on heritability of wing traits in N. vitripennis are available. Therefore, I conducted an experiment to estimate genetic parameters for wing traits first. Here I applied the so-called "Animal Model" to an outbred N. vitripennis population (HVRx). Half-sib families were created to generate pedigree information, by making mating groups of one male with five virgin females. The right forewing and right hind tibia of each offspring were dissected, and mounted in Euparal under coverslips on microscope slides. Wing traits and tibia length were recorded on 1569 individuals representing 55 half-sib and 265 full-sib families. In this study, we found some phenotypic variations and significant heritability (ranging from 0.09-0.26) for wing size and shape among individuals in HVRx. This result proves the ability of wing traits to respond to selection in this Nasonia population. Moreover, the significant heritability, especially for wing shape, suggests that we have good power to demonstrate response to GS for wing shape in N. vitripennis.
After estimating genetic parameters, the next step is to design a GS experiment for the HVRx population. GS uses two types of datasets: a reference population and a set of selection candidates. The individuals in the reference population are used to estimate the effects of each SNP, and must therefore have both phenotypic and genotypic records. The selection candidates have genotypic records only; they are directionally selected based on these records, and a significant phenotypic contrast between both groups is evidence of the success of GS. Some power calculations have been conducted beforehand to optimize the experiment, i.e., the number of individuals in the reference population and the number of selection candidates. Last November, we started the GS experiment with building-up the reference population. We collected wings and mounted them on micro-slides in the lab. The rest of the body was used for DNA isolation. So far, the collection of wings and DNA isolation from reference population and selection candidates has been completed. At the meantime, genotyping of DNA samples has been outsourced to a commercial provider. As a next step, I will analyse the genotypic data and estimate the effect of each marker to derive genomic estimated breeding values (GEBVs). Then the candidates will be selected based on their GEBVs and the response to selection will be recorded.