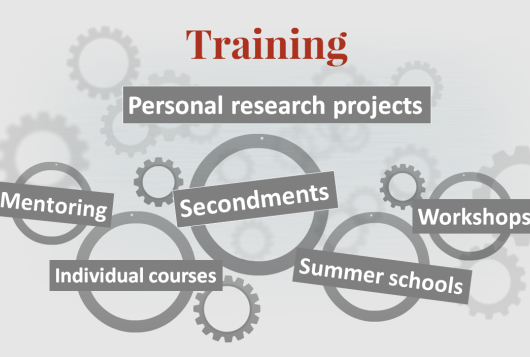 News
Training for Early Stage Researchers (ESRs)
Published on

October 11, 2016
Work Package update - For the thirteen Bingo ESRs (PhD-students) training means much more than just gaining experience from conducting a research project. The ESRs visit one summer school and one workshop every year, spend substantial time in other institutions (during so-called secondments), gain credit points through individually chosen courses and benefit from a mentor's experience.
A Bingo Summer School (BSS) lasts about one week with soft skills, which are of general use, as well as specific scientific topics, both being taught alike. The first BSS took place at the University of Bremen, in Germany, in September 2015. It covered topics including "Mastering your PhD" (time management and project planning) and "Career opportunities". ESRs also learned about best practice and common pitfalls in experimental design, behavioural analysis, chemical ecology experiments, and host range evaluation, as well as having an introduction to quantitative genetics and QTL analysis. The ESRs stayed in a nice guesthouse, prepared meals together and spent their spare time getting to know each other. The second summer school was held in June 2016 at Koppert's in the Netherlands, and it was just as successful. ESRs learned about the implications of the Nagoya protocol and about intellectual property rights. They handled various biocontrol agents during an entomology course, and improved their teaching abilities through a seminar on "Supervising graduate students". In addition, ESRs visited various vegetable growers, and thus gained hands-on experience in the practical use of beneficial insects.
The first workshop was organized by IVIA in Valencia, Spain, in January 2016. Several invited speakers presented aspects on the very core of the Bingo programme, on breeding invertebrates for next generation biocontrol, which led to some stimulating discussions. The ESRs also had ample opportunity for meeting with their respective mentors and finished their personal career development plans (PCDPs). Within a PCDP, the ESR plans when and where the different experiments, of which their projects consist, will take place. Some experiments will not be carried out at the ESRs home institute, but at another institute within the Bingo consortium, such that the ESR can benefit from the additional expertise, equipment, and experience. These secondments usually last from two weeks to three month, and the ESRs will typically have three secondments within the Bingo programme. Currently, most ESRs have already once visited another institution.
While the ESRs prepared their PCDPs, they were also able to identify still existing gaps in their education or skills they would like to improve. Most ESRs already attended courses accordingly, i.e. on advanced statistics, population ecology, functional genomics, or LINUX. Several ESRs also assisted in teaching university courses or co-supervised bachelor or master students.
Thus, the Bingo PhD students are well on track on their way to becoming independently thinking, well educated researchers within the area of modern biocontrol.