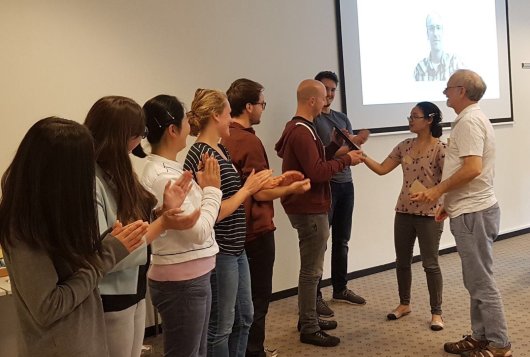 News
BINGO at the Nasonia 2017 meeting
Published on

September 13, 2017
ESR Update - The international Nasonia 2017 meeting was held in Groningen, The Netherlands, from 17-19 August 2017. The previous Nasonia meeting was four years ago, so it was high time for the many researchers of this fascinating parasitoid system to come together again! BINGO ESR Kelley Leung and INsecTIME ESR Elena Dalla Bennetta started a year ago to get ready to host attendees from 6 countries.
In 2016, I volunteered to plan a Nasonia meeting that could coincide with the European Society for Evolutionary Biology 2017 Congress (which was being organized by my advisor, Leo W. Beukeboom). The last Nasonia meeting had been four years ago and there were many new researchers in the field. That included myself (working on the biology of Nasonia polyploids and identifying a host specificity locus) and my labmate, Elena Dalla Benneta (of INsecTime, studying the circadian rhythms of Nasonia). We worked together to give Nasonia researchers the opportunity to update each other on their work and discuss community-wide goals.
The lead up to the Nasonia 2017 meeting was a slightly frantic blur of mass-emailing, balancing a budget, and putting together a scientific program. On August 17, keynote speaker Jack Werren of the University of Rochester (USA) kicked off the meeting with a talk on the future of Nasonia research. Over the next three days there were 30 presentations on pest control, genomics , the brain and head, chronobiology, speciation, host interaction, and sex determination. BINGO members Leo W. Beukeboom and Louis van de Zande contributed to discussion, and other BINGO members presented: Bart Pannebakker, on using the HVRx panel to study complex genetic traits; Shuwen Xia, on genomic selection of body size; Eveline Verhulst, on the role of a sex determination gene in pigmentation; and myself on my two projects.
In two presentations I gave a summary of my work so far. In my polyploid project, I found that polyploidy does not negatively impact the life history of Nasonia , with the exception of females having lower parasitisation ability. This means that polyploidy can potentially be used to improve biocontrol. For example, I will now experiment with how different gene copy numbers and various allelic combinations (dosage/dominance effects) can influence biocontrol phenotypes. For my host specificity project, I described how to create an experimental line for isolation of the host specificity locus; working with students to design an assay to distinguish generalist and specialist phenotypes; and cross-referencing literature to identify a gene that may be the candidate host specificity locus. Tomás Cunha, who introduced himself to the Nasonia community at the meeting, will investigate this candidate gene for his masters project.
It was a privilege meeting so many Nasonia researchers working across diverse topics. I knew that Nasonia was a world of vast scientific possibility—but I had no idea how big until the meeting!