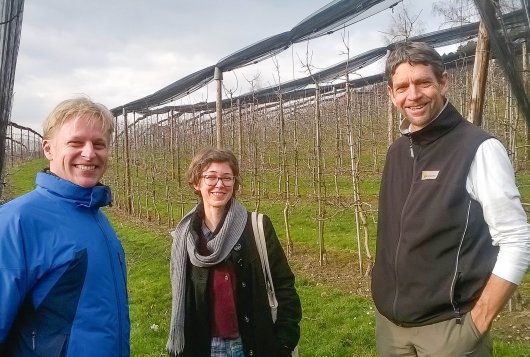 News
Planning field releases: between practicability and practical relevance
Published on

April 25, 2016

ESR update - Before releasing a parasitoid as a potential biological control agent a lot of things need to be considered. How many individuals should be used? Which stage should be released? Should they be distributed in the area or set free in one spot? How to measure the effect?

Of course this is all a question of what exactly you want to achieve and what constraints you are facing.

In my project I am trying to figure out whether the native egg parasitoid Anastatus bifasciatus could be used to control – in an effective and safe way - the invasive stink bug Halyomorpha halys, which is an emerging pest in European fruit production.
Since this is an applied question, it would be best to stay as close as possible to methods that could be used by biocontrol practitioners and thereby taking into account mass rearing and transport as well as the distribution of the agent by the farmers. In other words, this means to make the release strategy as easy and time efficient as possible.
Those goals however, need to be fit into the frame of the basic question. So in order to be able to make the effects of the release and also potential arising problems more visible, the design needs to be adapted first, taking one step at a time.
The biggest challenge is that in this early stage there is a lot we don't know yet about this parasitoid-host system; including crucial things for the release in the field planned for this summer. That is why I set up several experiments about the general biology of the parasitoid in the laboratory which are currently ongoing. From those I hope to gain some answers about parameters like longevity and fecundity which will then influence the way the release is going to take place. First results – more promising than expected - have already been integrated into the planning.
Even though timing is of the essence, I am lucky to be able to work with both the bugs and the wasps throughout the whole year. However, there are other aspects that depend on the season, such as the non-target testings for the risk assessment part of the project because the non-target species are, in most cases, only available at a certain time.
It goes without saying that the first non-target species this year, Endromis versicolora, started laying eggs - right before I left for my secondment at the University of Bremen, forcing me to burden my supervisor Tim Haye with the realisation of the testings.
He is thus the first person I need to thank at this point, followed by my second supervisor Dirk Babendreier. Currently I am enjoying the sublime hospitality of the Population and Evolutionary Ecology Lab in Bremen but I haven't forgotten about my colleagues at my host institution CABI who brighten everyday life.