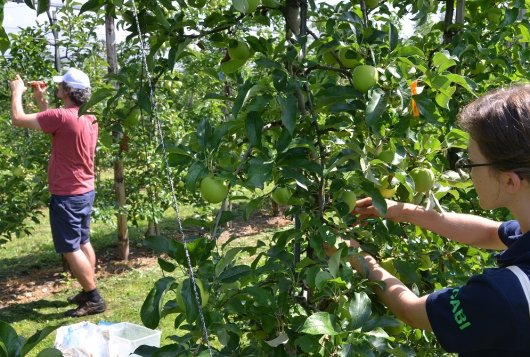 News
Monitoring and Risk assessment
Published on

November 17, 2016
Work Package update - Since the early 1980s there has been considerable debate on risks associated with the release of biological control agents. As a result a thorough risk-assessment strategy and subsequent monitoring of the released organisms are key components of modern and environmentally safe biological control procedures. Using two taxa of egg parasitoids, WP5 is focusing on the impact of inundatively released biological control agents on the environment.


Egg parasitoids in the genus Trichogramma are the most widely used natural enemies in inundative biological control worldwide and both native and exotic species have been mass reared and released. In order to study the effects of inundative releases of Trichogramma brassicae on local populations of Trichogramma species, PhD candidate Sophie Chattington, located at Bremen University, Germany, began by sampling organic cabbage fields across Germany in order to determine their natural species diversity. During the summer of 2016, sticky traps and egg traps containing the factitious host Sitotroga cerealella were placed in 14 field sites in 6 different locations distributed across Germany. Currently Sophie is on a secondment at Wageningen University & Research, the Netherlands, where she is carrying out molecular methods to identify the collected Trichogramma to species, and hopefully strain level. With this information, it will be possible to begin planning competition laboratory experiments, as well as comparing the species and strains on life history traits.
Anastatus species are known to be polyphagous, attacking a wide range of hosts in different insect orders. Anastatus are currently used against fruitspotting bugs in Australia, but they have also been considered for inundative releases against the invasive heteropteran pest, Halyomorpha halys, in Europe. Due to their wide host range concerns have been expressed that mass released Anastatus may threaten co-existing non-target species within the crop or in bordering natural habitats. In 2016, PhD candidate Judith Stahl located at CABI Switzerland started to investigate the host range of Anastatus bifasciatus, testing 28 potential hosts that were selected according to parameters such as genetic relationship to the target, phenology, egg size, or potential presence in fruit orchards. A. bifasciatus was able to successfully produce offspring from 23 of the tested 28 species, including heteropteran and lepidopteran host. For assessing potential non-target effects under field conditions, Judith released nearly 1,000 A. bifasciatus females at two occasions in an apple orchard near Zurich. Sentinel eggs of H. halys and three exemplary non-target species were exposed simultaneously in the apple orchard for five days before retrieval to the laboratory. Non-target parasitism occurred, but was less prominent than parasitism of the target species H. halys. Persistence of released parasitoids was assessed by exposing H. halys egg masses in between releases. Our first results suggest that A. bifasciatus females persist in the orchard for at least two weeks and stay at least partly in the area around the original release point.