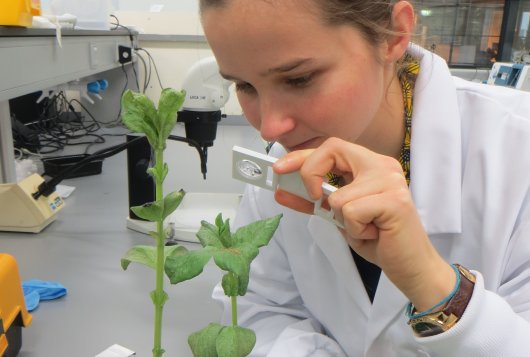 News
How to make Phytoseiulus persimilis adapted to arid environments
Published on

December 23, 2016
ESR Update - Abiotic conditions, like temperature and relative humidity, can have a strong impact on the efficacy of augmentative biological pest control. If the released natural enemy is not adapted to the same abiotic conditions as the pest, it may have difficulty controlling it. This shows the importance of choosing natural enemies adapted to the climate in the area where they are needed.
Author: Sophie Le Hesran MSc.
ESR update - Phytoseiulus persimilis is the most used natural enemy to control the phytophagous mite Tetranychus urticae (also called spider mite). It is a very efficient predator, except in hot and dry conditions, under 60% RH and above 27°C. Unfortunately, in these conditions, spider mite populations thrive. Consequently, biological control of this pest on crops grown in arid environments remains a serious problem, which is difficult to solve with the commercially available predatory mites.
To solve this problem, I currently work on the artificial selection of a drought tolerant strain of P. persimilis. My first objective was to investigate if there is already a drought tolerant population of P. persimilis somewhere in the world, and to compare it to the commercial line. I contacted several research teams who sent me 4 different field-populations from places with hot and dry summers : South of France, Sicily, Israel and Turkey. To compare the drought tolerance of these 4 populations with the commercial line, I carried out 96 egg hatching tests at low humidity. In fact, the most drought sensitive life stage for P. persimilis is the egg, and therefore egg hatching rate at low humidity is the best indicator for drought tolerance. I found out that there is no intraspecific variability for drought tolerance between these 5 populations. To search for a potential genetic variability between them I sequenced 2 regions of their genome with 2 genetic markers (Cytb and 12S), but I didn't find any genetic variability so far.
My second objective is to selectively breed a drought tolerant strain of P. persimilis. I started 3 months ago by pooling the genetic patrimonies of my 5 populations into one base population, to make sure to start with some genetic variability. This genetic variability is important to allow my base population to adapt to environmental changes, like low humidity. I collected many eggs from this base population and exposed them to low humidity. Then, I collected the survivor larva hatched from these eggs, and created the next generation with them. I am now repeating this process, creating a new "selected" generation every month, more drought tolerant than the previous ones. When I am satisfied with the drought tolerance of my new selected line, I will go to Spain, when the climate starts to be hot and dry, to test its predation capacities in greenhouses.